Overall Site Plan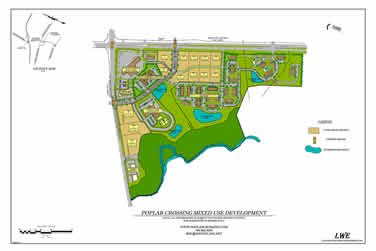 » View/Print the Overall Site Plan
Aerial & Location Photo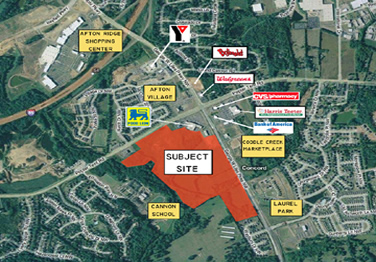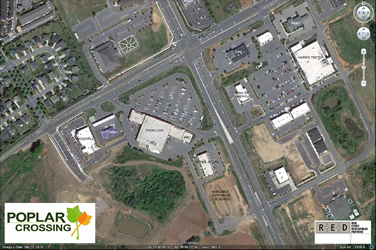 About Us
The property at Poplar Crossing operated for many years as a beef cattle and cotton farm starting in the 1940's by the late J. Lewis Patterson, a lifelong resident of Cabarrus County. Mr. Patterson built the now George Liles Parkway through the property as a gravel road to access his cattle and the farmland. Ultimately, NCDOT saw the need for a road connecting Poplar Tent and Weddington Roads, paved it and added it to the state road system. In the late 1990's the Patterson family teamed up with Judd McAdams of RED Partners to develop the Poplar Crossing Food Lion anchored shopping center.
This successful center brought shopping and services to the rapidly growing area of western Concord near I-85. In 2006, completion of the 4-lane Concord – Kannapolis Westside Bypass linked Poplar Crossing to a new interchange with I-85 and north to NC Highway 3 at Kannapolis and the new NC Research Campus in Kannapolis.
The newest additions to Poplar Crossing in 2009 were the Goodwill Retail Center, and a second building housing Cabarrus Family Medicine, a CMC-Northeast affiliate. While members of the Patterson family continue to farm and raise agricultural crops on portions of the property, Poplar Crossing is poised to expand into the 2010's with additional retail, office, office/flex and residential development.
Contact Us
For more information contact us at:
Address
Poplar Crossing Development
5303 Poplar Tent Rd., Suite 260
Concord, NC 28027
Phone Numbers
704-795-4044 or 704-662-6644
Email Address
info@PoplarCrossing.com
Or fill out the form below and we'll contact you.
Welcome to Poplar Crossing
"Poplar Crossing is conveniently located at the corner of George Liles Boulevard and Poplar Tent Road in Concord, North Carolina. Poplar Crossing currently includes Food Lion, ABC Store, restaurants and many service oriented businesses. A city park and YMCA are convenient to the property, as well as schools and a daycare center. Poplar Crossing offers sites for commercial, residential and retail development. Lease opportunities are available as well, in the current development."
Available Sites For:
Restaurants
Fast Food
Financial Institution
Retail
Hotel/Motel
Convenience Store
Professional Office
Medical
Multi-Family/Mixed Use
Office/Flex
Poplar Crossing is well served with utilities, infrastructure, zoning and excellent transportation access for these uses. Sites are available for Sale, Lease or Build-to-Suit.
» View/Print the PDF of Available Sites
Photo Gallery
Poplar Crossing Shopping Center
Poplar Crossing Shopping Center, developed in 1998 by The McAdams Company and the property owners, has enjoyed over ten years of serving southern Cabarrus County.  A second phase in 2000 added the Cabarrus County ABC store and in 2002 a third expansion was added due to demand from tenants wishing to join the already successful location.  The SM Mart joined the center in 2004 and in 2009 a new Goodwill Retail Store opened. 

An excellent location coupled with the draw of Food Lion and the development of the Westside Bypass, has afforded the tenants in the shopping center an excellent location in which to conduct their businesses with most having been there since the center opened. A variety of shops, service businesses, restaurants, and a pharmacy complement the center. Additional retail and residential development surrounding the center has anchored it in one of the fastest growing hubs of Cabarrus County. 
For Lease Spaces
Poplar Crossing offers Lease Space in the Food Lion anchored shopping center, as well as in the adjacent expansion center, with competitive rates and flexible terms. Future Lease Space is anticipated to be available for professional offices, medical offices, office/flex, retail, and build-to-suit in future phases of Poplar Crossing. Please contact us regarding your specific needs.
» View/Print the Poplar Crossing Lease Space
For Sale Spaces
Poplar Crossing offers a variety of For Sale options. In addition to Outparcels and Commercial/Office/Retail Building Lots, future professional office condominiums, retail condominiums, and office/flex condominiums are planned. Please contact us regarding your specific needs.

Site Demographics / Data
» View/Print the Poplar Crossing Area Demographics
» View/Print the Poplar Crossing Highway Traffic Counts
» View/Print the Map – Poplar Crossing 5 mile radius
Other Available Properties
In addition to Poplar Crossing, Poplar Crossing Development has available space and sites nearby.
Parkway Crossing - Weddington Rd.